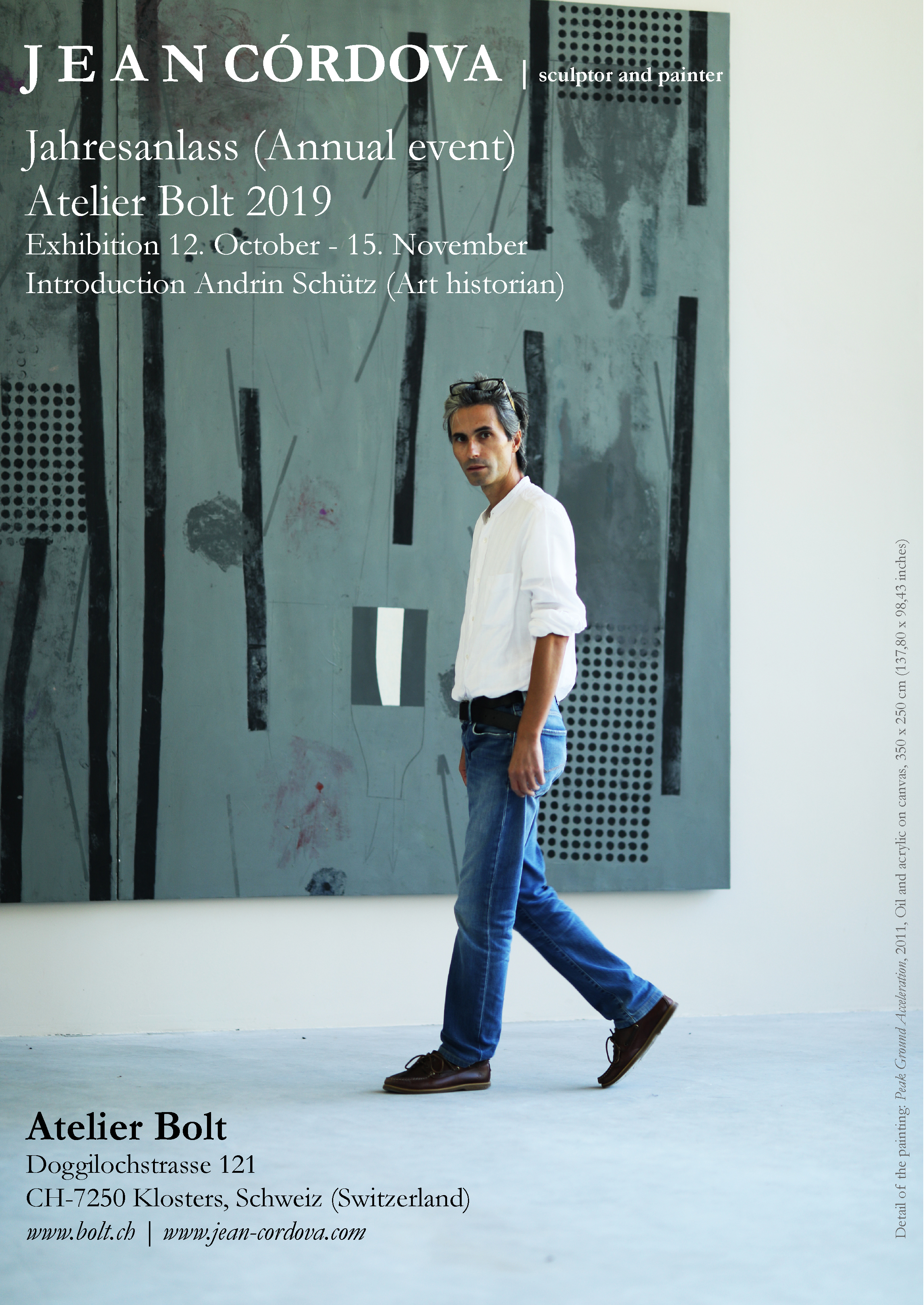 Jean Córdova, Exhibition Atelier Bolt, Klosters, Switzerland 2019 (Photo Christian Bolt © 2019)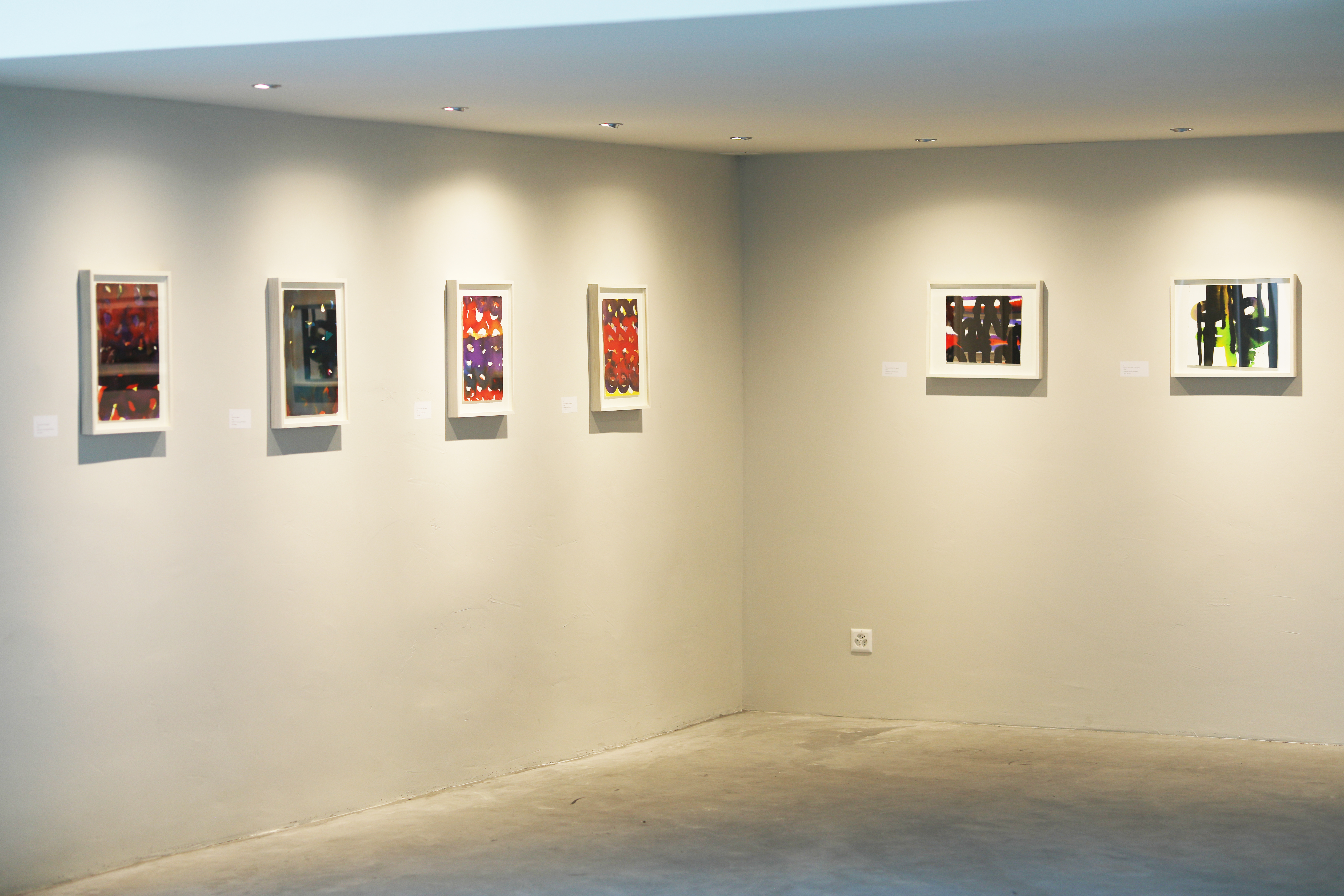 Jean Córdova, Exhibition Atelier Bolt, Klosters, Switzerland 2019 (Photo Christian Bolt © 2019)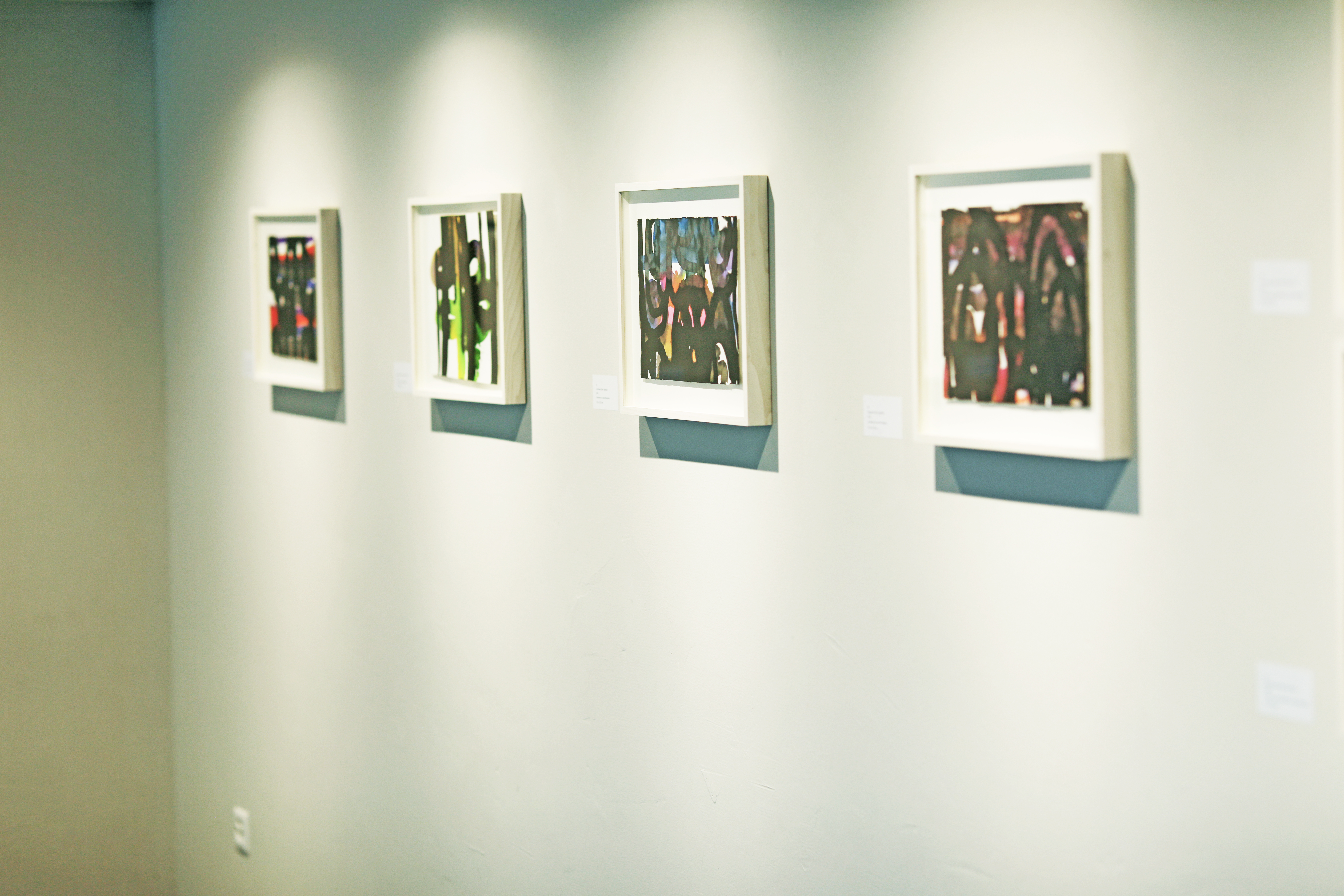 Jean Córdova, Exhibition Atelier Bolt, Klosters, Switzerland 2019 (Photo Christian Bolt © 2019)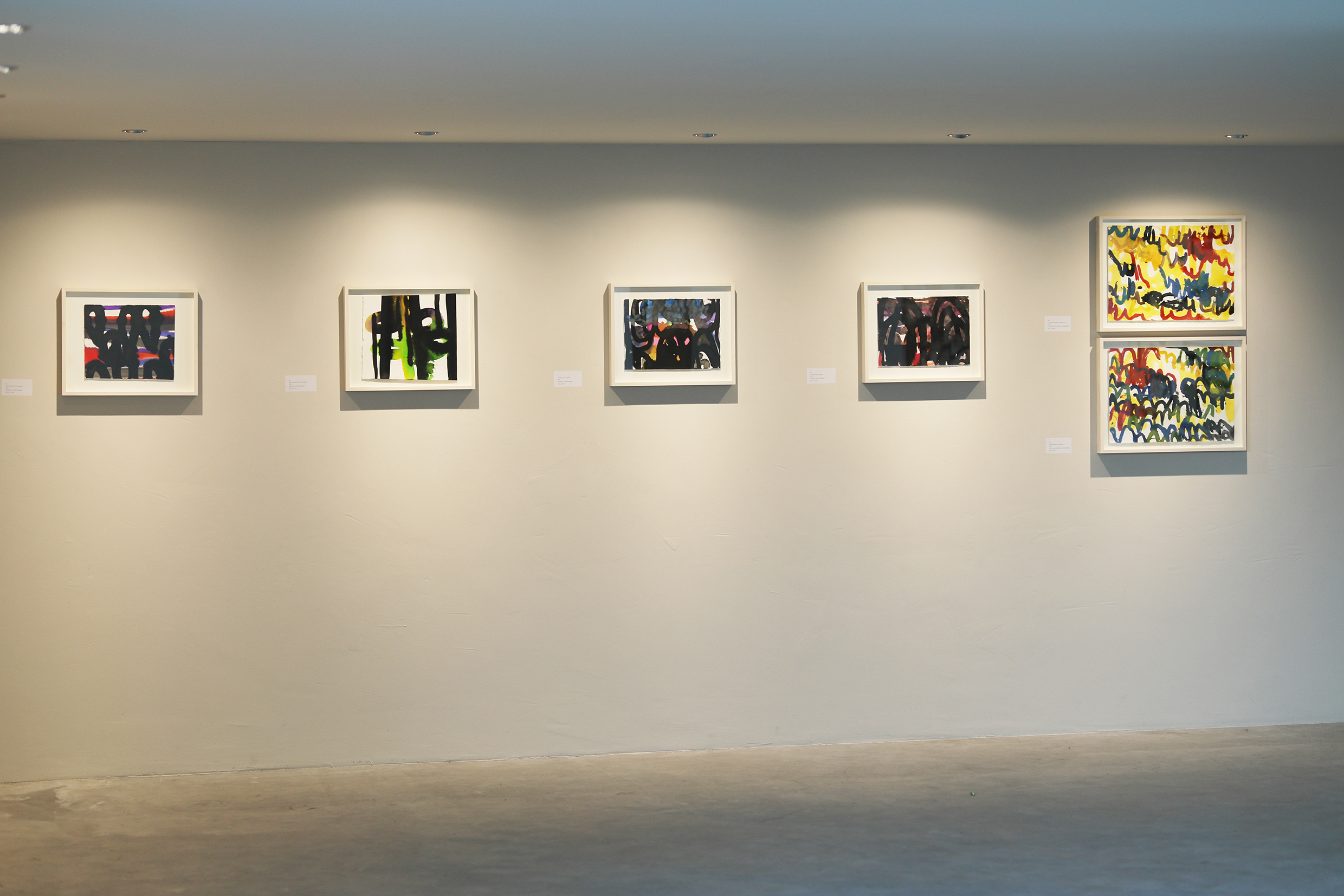 Jean Córdova, Exhibition Atelier Bolt, Klosters, Switzerland 2019 (Photo Christian Bolt © 2019)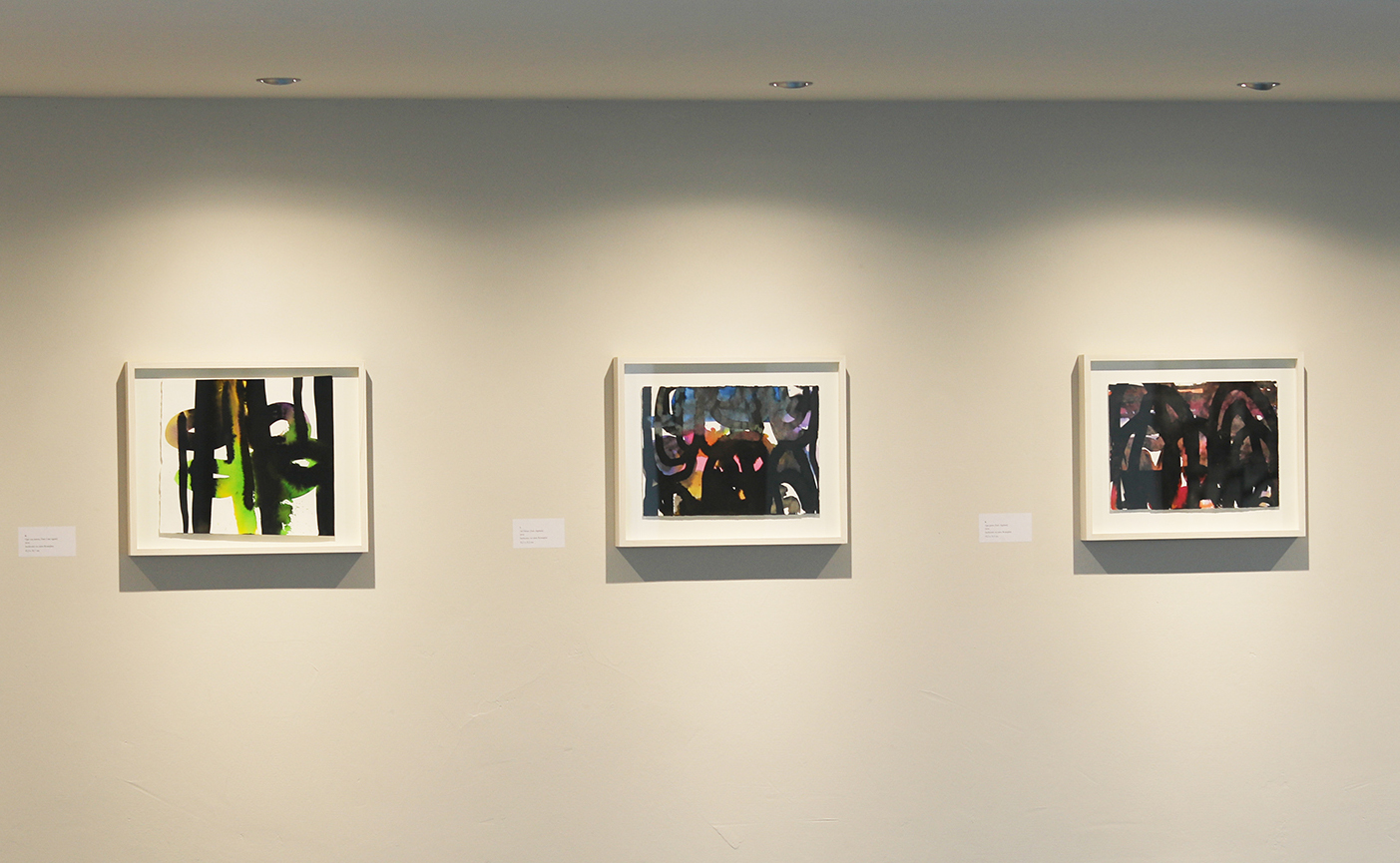 Jean Córdova, Exhibition Atelier Bolt, Klosters, Switzerland 2019 (Photo Christian Bolt © 2019)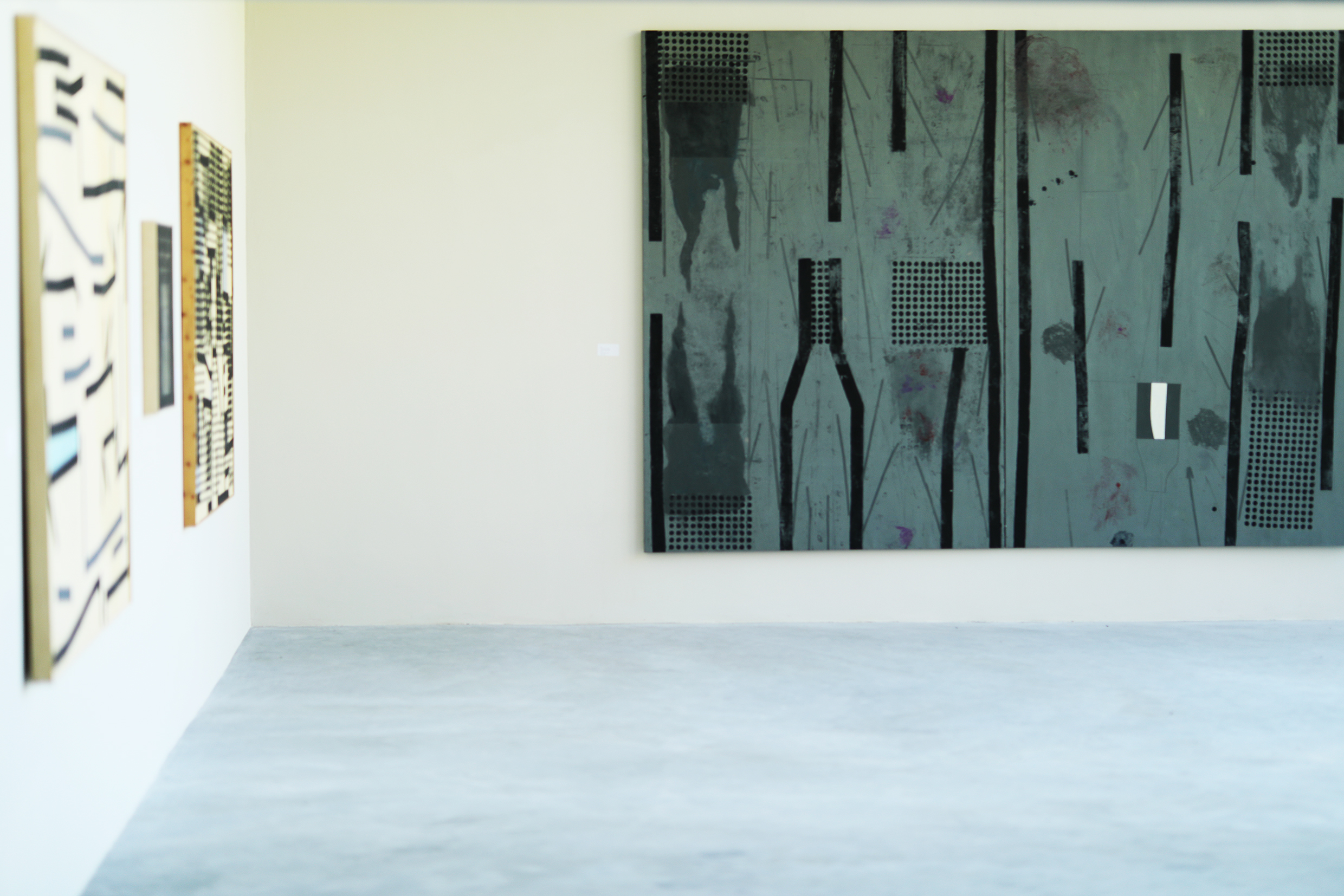 Jean Córdova, Exhibition Atelier Bolt, Klosters, Switzerland 2019 (Photo Christian Bolt © 2019)
Jean Córdova, Exhibition Atelier Bolt, Klosters, Switzerland 2019 (Photo Christian Bolt © 2019)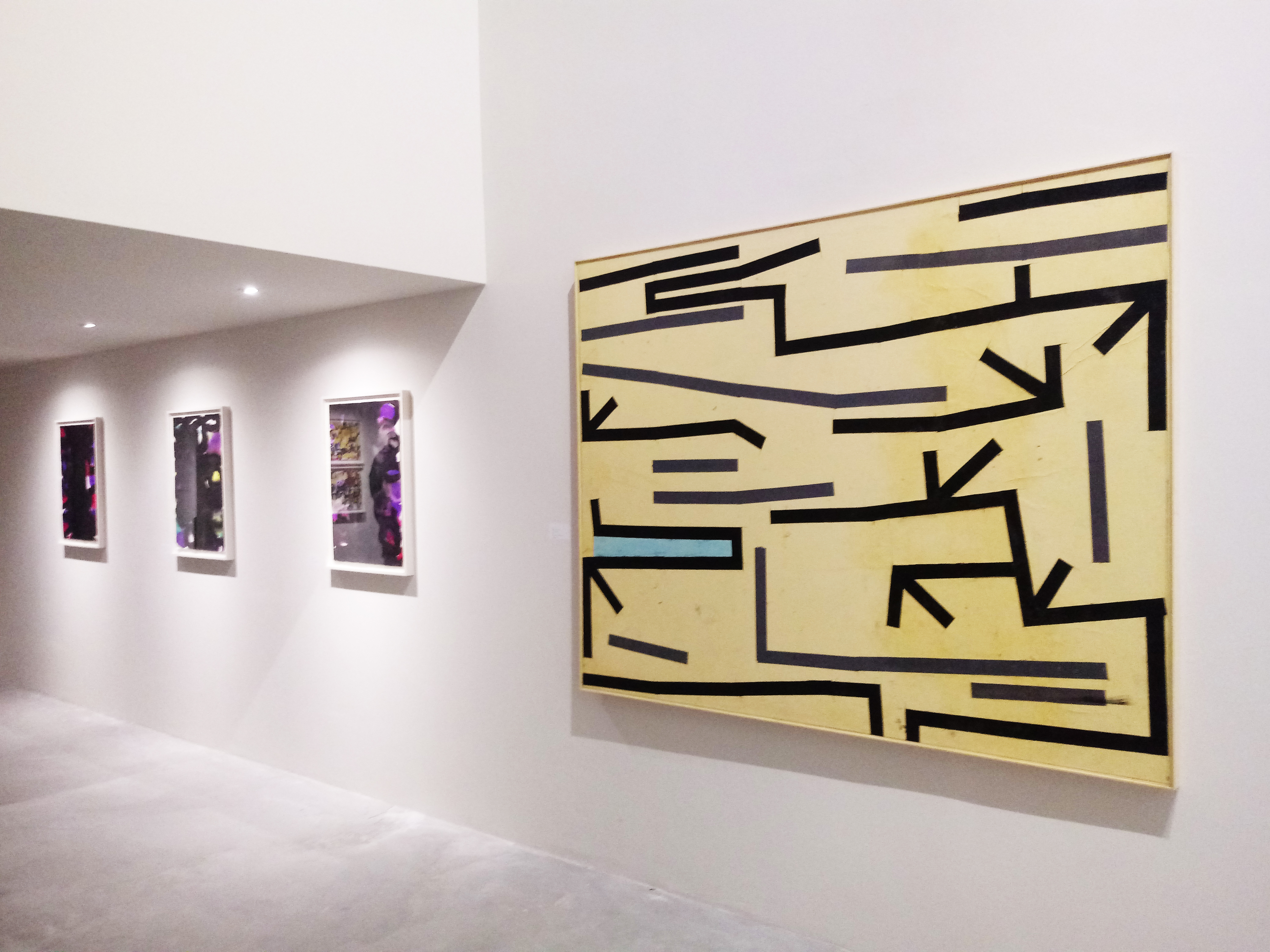 Jean Córdova, Exhibition Atelier Bolt, Klosters, Switzerland 2019 (Photo Christian Bolt © 2019)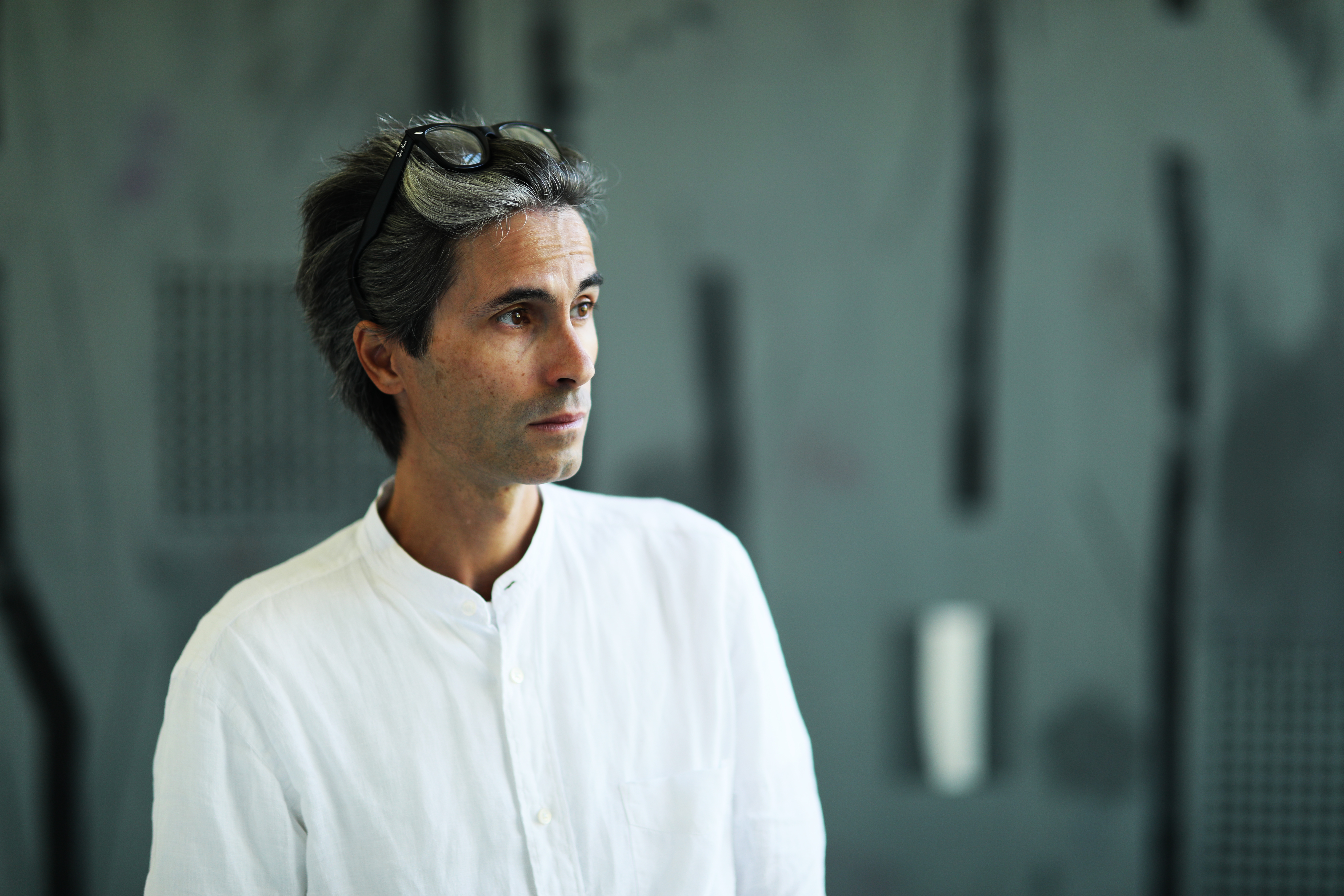 Jean Córdova, Atelier Bolt, Klosters, Switzerland 2019 (Photo Christian Bolt © 2019)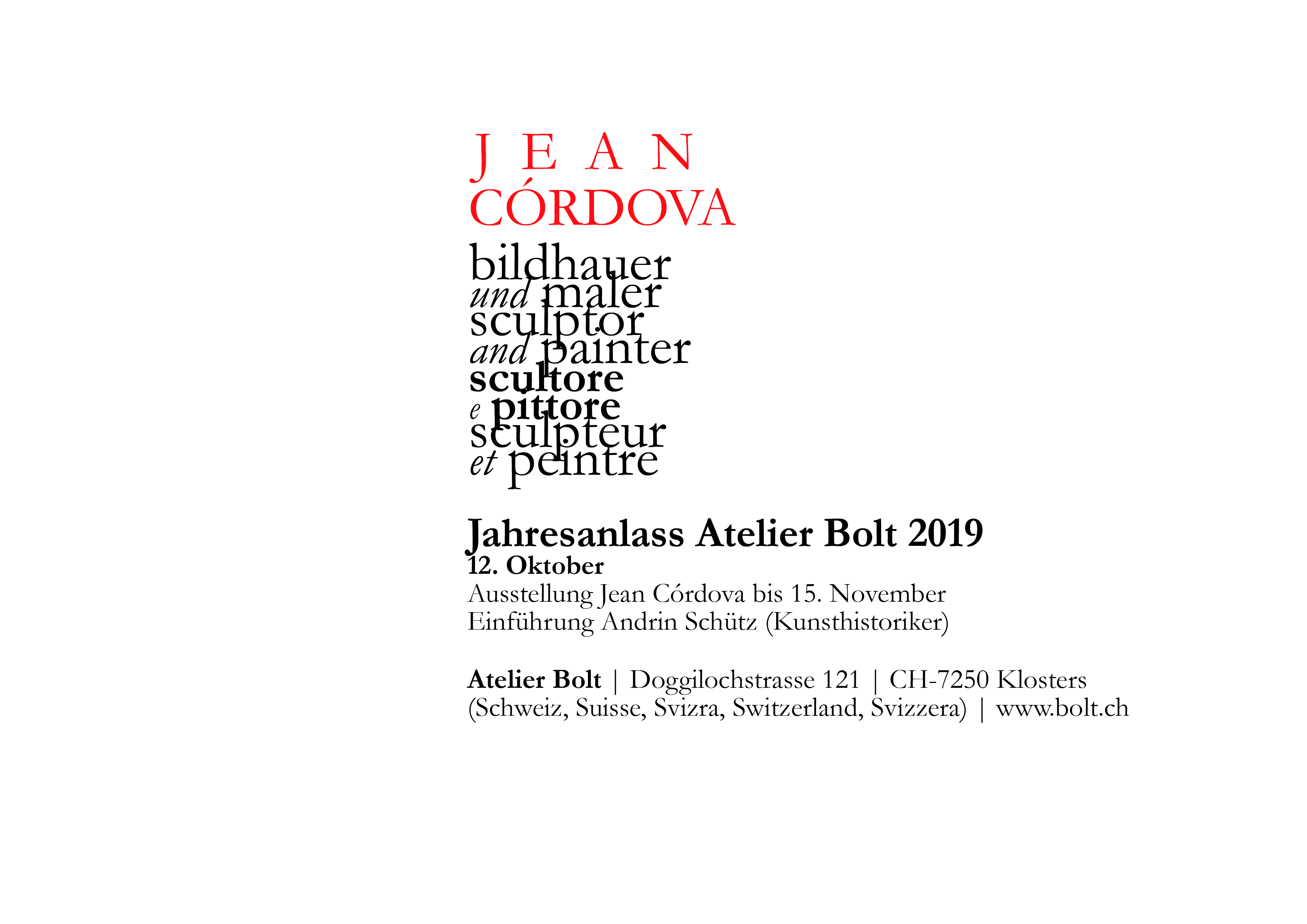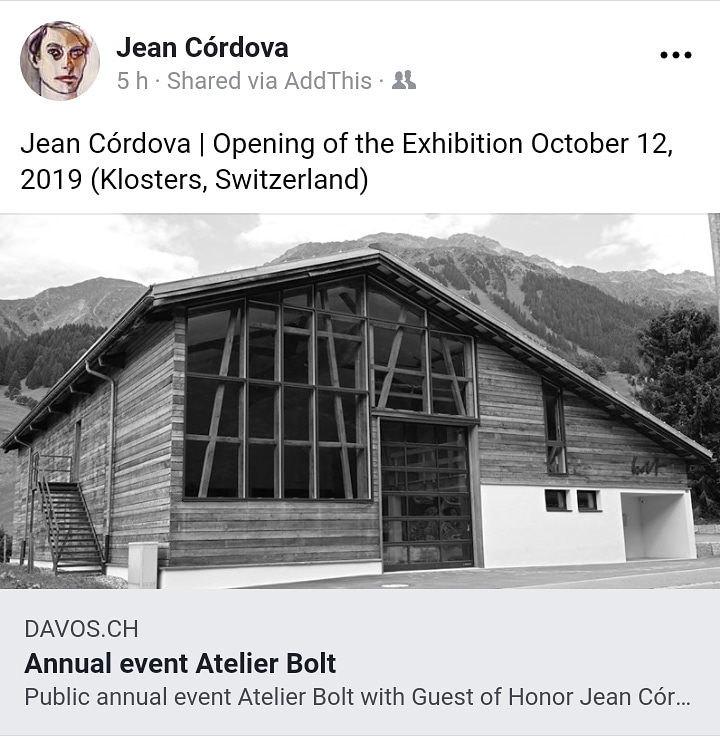 https://www.davos.ch/en/davos-klosters/events/events/?no_cache=1&eventId=12540
https://www.davos.ch/davos-klosters/events/events/?no_cache=1&eventId=12540


Dear friends,
I am glad to inform you that my first solo exhibition abroad will be inaugurated in Switzerland on 12 October (2019). My works will be exhibited in Klosters, in Prettigovia/Davos region, at the Atelier Bolt: an important cultural centre for the promotion of young contemporary art, located in the canton of the Grisons.
At the Atelier Bolt I will present a selection of my pictorial works from 2003 until 2019. During the inauguration, the sculptor and painter Christian Bolt and the Swiss art historian Andrin Schütz will take a speech.
The annual event of Jahresanlass at the Atelier Bolt, it is organized by the Swiss sculptor and painter Christian Bolt and it is dedicated to the presentation of the works of painters, sculptors, historians and critics of contemporary art and collectors.
I am waiting for you!
A warm greeting,
Jean Córdova.
_____________________________________________________________________________
Cari amici, vi informo che il prossimo 12 ottobre (2019) verrà inaugurata la mia prima esposizione personale all'estero in Svizzera a Klosters, nella regione Prettigovia/Davos, presso l'Atelier Bolt: importante centro culturale, situato nel Canton Grigioni, per la promozione della giovane arte contemporanea.
All'Atelier Bolt esporrò una selezione del mio lavoro pittorico a partire dal 2003 fino al 2019. Durante l'inaugurazione interverrà lo scultore e pittore Christian Bolt oltre allo storico dell'arte svizzero Andrin Schütz.
L'evento annuale (Jahresanlass) presso l'Atelier Bolt, organizzato dallo scultore e pittore svizzero Christian Bolt, è dedicato alla presentazione del lavoro di pittori, scultori, storici e critici dell'arte e collezionisti contemporanei.
Vi aspetto, un caro saluto, Jean Córdova.
____________________________________________________________________________
IL MIO LAVORO
I miei dipinti e le mie sculture non sono parti di sogni, ma sezioni viscerali di realtà: labirinti mentali, dove l'essere umano nasconde la sua linfa più intima. Il caos che diventa vita attraverso i ricordi di una casa, di un pozzo, di vie assolate, di segni blu, di un incendio, di architetture, di città, di natura, di fragili visioni, di morte.
Queste suggestioni mnemoniche rivivono fondendosi col presente, un presente eternamente confuso che precede l'atto creativo.
Non credo in uno sviluppo temporale dell'arte ma in una totale immersione, dove tutto si confonde: passato, presente, futuro e il nulla compreso, dove l'intero diventa presagio e a sua volta immagine.
Jean Córdova
MY WORKS
My paintings and sculptures are not parts of dreams but rather some visceral sections of reality: mental mazes, where humans hide their most intimate thoughts. Chaos becomes life through the memories of a house, a well, sunny roads, blue signs, a fire, architecture, cities, nature, fragile visions, death.
These mnemonic suggestions live again, blending with the present, an eternally confused present that precedes the creative act.
I don't believe in a temporal evolution of art, but in a full immersion in it, where everything is mixed up: the past, present, future, and the nothingness, where the whole becomes omen and image on itself.
Jean Córdova
Copyright 2019 © Jean Córdova + ZAUM
C.F.: RCCGCR78S29L093B 
– Tutti i diritti riservati –