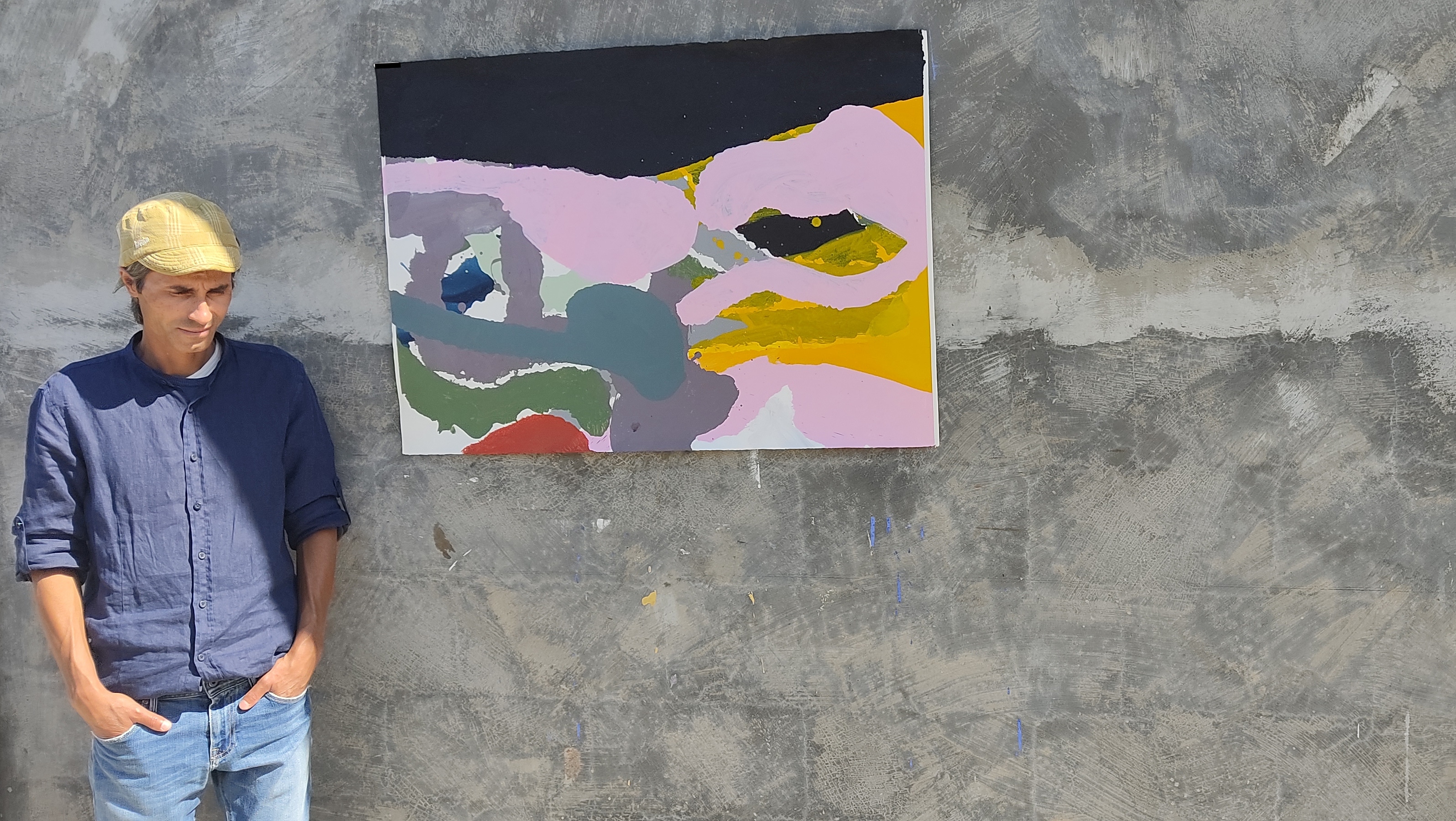 Jean Córdova, october – ottobre 2020.
BIOGRAPHY

Jean Córdova (Tempio Pausania, 1978) is an Italian painter and sculptor. After graduating from the Art School in Tempio Pausania, his hometown in Sardinia, from 1998 to 2002 he attended the sculpture classes at the Academy of Fine Arts in Carrara. During this period, he acquaints himself with the Swiss sculptor and painter Christian Bolt whose influence on Córdova's artistic and human development was very important. Between 1998 and 1999 he exhibited a plaster sculpture called "l'Avanzante" ("He/It who/that advances") at the Costantino Nivola Foundation (Nivola Museum)  in Orani, Italy, on the occasion of the Costantino Nivole Regional Prize for Sculpture (Second Edition); the exhibition and catalogue cured by art historian Luciano Caramel and Ugo Collu (President of Nivola Foundation from 1991 to 2012). In 2002 he won ex aequo the first prize in the third regional sculpting competition which is promoted by the Italian Art foundation "Costantino Nivola", based in Orani, Sardinia; the winning work, called "Miriam una regina" ("Miriam, a Queen) is found at the Nivola Foundation. Through the Foundation's initiative, he award entailed attending the Incision Workshop organised by the Associazione Casa Falconieri, held in Cagliari, Italy, in 2003, at the Centro Polifunzionale Archimedi and a sculpture workshop at the Architecture University of Darmstadt, Germany. From 2004 to 2007 he lived in Milan and attended Industrial Design classes at the IED (Institute European Design). In 2008 he was admitted to the Premio Arteingenua 2008, "Impatto_arte, luogo + relazioni", in Brescia, Italy; catalogue and exhibition directed by art historians and critics Ilaria Bignotti, Cecilia Cordoni, and Anna Leopaldo. In May 2010, he started frequenting the studio of the Italian painter Claudio Olivieri, a protagonist of the Pittura Analitica movement. In June 2011, his personal exhibition was inaugurated in Milan's Galleria d'Arte San Lorenzo titled "Cόrdova opere"; exhibition directed by Davide Bramante and Roberto Milani. His work was much appreciated by the art historian Marco Vallora and from December 2011 to February 2012 his works were displayed in the exhibition "Lo stato dell'arte" (The State of the Art), a part of the 54th International Art Exhibition at Venice Biennale (Padiglione Italia, Palazzo Nervi, Torino). Both the Biennale and the exhibition were curated by the art historian Vittorio Sgarbi, and they were dedicated to the 150th anniversary of the Italian unification. Since April 2016 Jean has been co-founder and member of the "Gruppo Culturale Zaum" (www.gruppo-zaum.com), committed to the organisation of art exhibitions and the publication of free poetry e-books. Since February 2018 he has published his articles on art and poetry in the "Nazional-popol-arte" column of the cultural-philosophical journal "Interesse Nazionale" (National Interest www.interessenazionale.net), founded and directed by the philosopher Diego Fusaro, from Turin. In September 2018, philosopher Diego Fusaro directed Córdova's third personal exhibition in San Pantaleo, Italy, at the Galleria Bob Art & Friends, called "Jean Córdova. Conditio sine qua non". He started to exhibit his works in 1998, and on 12 October, 2019 his first foreign exhibition was inaugurated  in Klosters,  Switzerland, directed by Swiss art historian and poet Andrin Schütz, at the Atelier Bolt, an important cultural centre in the Canton of Grisons. At present Jean Córdova lives and works between Sardinia and Milan.
BIOGRAFIA
Jean Córdova (Tempio Pausania, 1978) è un pittore e scultore italiano. Dopo essersi diplomato presso il Liceo Artistico di Tempio Pausania, sua città natale in Sardegna, ha frequentato, dal 1998 al 2002, il corso di scultura presso l'Accademia di Belle Arti di Carrara. In questi anni, conosce e frequenta lo scultore e pittore Christian Bolt; l'artista svizzero è stato molto importante per la sua formazione artistica e umana. Tra il 1998 e il 1999 espone una sua scultura in gesso dal titolo "l'Avanzante" presso la Fondazione Costantino Nivola (Museo Nivola) ad Orani in occasione del "Premio Regionale di Scultura Costantino Nivola" (II Edizione); mostra e catalogo a cura dello storico dell'arte Luciano Caramel e Ugo Collu (Presidente della Fondazione Nivola dal 1991 al 2012). Nel 2002 ha vinto ex aequo il premio del III concorso di scultura regionale della «Fondazione» d'arte italiana «Costantino Nivola», con sede ad Orani, in Sardegna; l'opera premiata dal titolo "Miriam una regina" è custodita presso la Fondazione Nivola; il premio gli ha permesso, per iniziativa della stessa Fondazione, di frequentare il Workshop d'incisione promosso dall'Associazione Casa Falconieri, tenutosi a Cagliari nel 2003, presso il centro Polifunzionale Archimedi e un laboratorio di scultura presso l'Università di Architettura di Darmstadt, in Germania. Successivamente, dopo il suo trasferimento a Milano, dal 2004 al 2007, segue e frequenta il corso di Disegno industriale presso l'Istituto Europeo di Design (IED, Milano). Nel 2008 è stato ammesso al Premio Arteingenua 2008, "Impatto_arte, luogo + relazioni", a Brescia; catalogo e mostra a cura degli storici dell'arte e critici contemporanei Ilaria Bignotti, Cecilia Cordoni, Anna Leopaldo. Nel giugno 2011 è stata inaugurata la sua esposizione personale dal titolo "Cόrdova opere" presso la Galleria d'Arte San Lorenzo di Milano; mostra a cura di Davide Bramante e Roberto Milani. Nel maggio del 2010 conosce, frequentando il suo studio, il pittore italiano Claudio Olivieri, importante esponente del movimento della Pittura Analitica. Selezionato dallo storico dell'arte Marco Vallora, le sue opere sono state esposte nella mostra dal titolo «Lo stato dell'arte» alla 54a Esposizione Internazionale d'Arte della Biennale di Venezia (Padiglione Italia, Palazzo Nervi, Torino), tra il dicembre del 2011 e il febbraio del 2012: edizione curata dallo storico dell'arte Vittorio Sgarbi e dedicata al 150° anniversario dell'Unità d'Italia. Dall'aprile 2016 Jean è cofondatore del «Gruppo Culturale Zaum» (www.gruppo-zaum.com), dedito all'organizzazione di mostre d'arte oltre alla pubblicazione di ebook di poesia gratuiti. Dal febbraio 2018 pubblica i suoi articoli, sulla rubrica «Nazional-popolar-arte», inerenti all'arte e alla poesia, sulla rivista Cultural-filosofica «Interesse Nazionale» (www.interessenazionale.net), fondata e diretta dal filosofo torinese Diego Fusaro. Nel settembre del 2018 il filosofo Diego Fusaro cura la sua terza mostra personale a San Pantaleo (Sardegna), presso la Galleria Bob Art & Friends, dal titolo "Jean Córdova. Conditio sine qua non". Dal 1998 ha iniziato a esporre le sue opere, e il 12 ottobre del 2019 è stata inaugurata la sua prima esposizione personale all'estero in Svizzera a Klosters, a cura dello storico dell'arte e poeta svizzero Andrin Schütz (www.textext.ch), nella regione Prettigovia/Davos, presso l'Atelier Bolt (www.bolt.ch): importante centro culturale, situato nel Canton Grigioni, dedito alla valorizzazione e promozione della giovane arte contemporanea. Vive e lavora tra la Sardegna e Milano.
Copyright 2021 © Jean Córdova + ZAUM
C.F.: RCCGCR78S29L093B
– Tutti i diritti riservati –